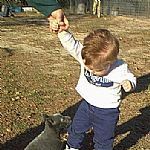 The Stumpy Tail Cattle Dog is truly unique, but they are not the dogs for everyone.
Before you decide to take on a Stumpy, ask yourself these four questions...
1. Do I have the time to daily train, exercise, and play with my dog?

2. Do I understand that this dog needs mental stimulation such as
obedience training, and am I prepared to undertake this training with my dog... in ANY kind of weather?

3. Do I have the room and facilities to make sure this dog is comfortable?

4. Am I prepared to love and be responsible for the same dog for its entire lifetime?
 
If you answered yes to these questions... then you might be ready for a Stumpy.
A baby puppy or an older puppy??
Sometimes a breeder has an "older" puppy, between the ages of 4-12 months, available to a pet home. While a lot of people may think that there must be something wrong with an older puppy, that puppy might be available for one of many good reasons.
Our breed standard is strict regarding height, color and the tail (or rather the lack of a tail). A puppy that is perfect in every way might have a minor fault that prevents it from being eligible for the show ring. Often those faults do not materialize until the ages of 5-7 months.

Additionally, sometimes the most "perfect" puppy, one without a cosmetic fault, simply does not desire to be a star and might not particularly like the show ring and all the stress that goes with it. Unfortunately, those personality traits are often not evident until later in the puppy's first year. Some breeders hold out hope that the puppy may adapt and after attending several dog shows with that pup, they give up.
At that point, the breeder goes looking for the perfect pet home for that lovely puppy.
These minor "faults" may be simply a matter of being 1/2 inch over or under the minimum or maximum height requirements, incorrect color or teeth that don't align "perfectly". These faults, while significant in the show ring, will impact the puppy's future as a show dog...but will not affect the puppy's future as a stock dog, an obedience or agility prospect or as a loving pet in your home! 
 
The advantages of an older puppy are...
*The most expensive time of puppyhood has been already completed. Usually all vaccines have been given.

* The "chewing" stage is over!

* You will still enjoy a playful puppy, but one that is past infancy stage.

* They have some control over their bladders, and potty training is near completion.

* Another bonus... they sleep through the night. (usually!)

* The puppy should be already crate trained.

* While you may pine for the "baby" puppy, older puppies adapt more easily to your home and schedule, and you will find that you did not miss out on very much at all!