About the Tail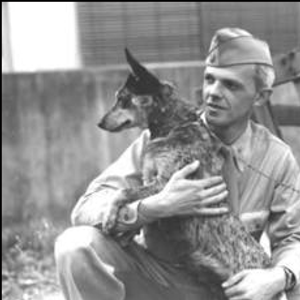 Shortly after World War II, a few American GIs who had been stationed in the Pacific and had spent R&R in the land Down Under had the opportunity to observe "blue and red heelers" working stock in the outback. They were highly impressed.

When these fellows got back home and realized how wild their own livestock had become, it was determined that they should import some of the dogs they had seen working. Those first groups of imports included the "Stumpy Tail" cattle dog and the "Australian Cattle Dog". Both breeds were often simply referred to as 'blue heelers'.
Unbeknownst to the Americans, the Australians had sent BOTH breeds. It was not a malicious thing; after all, there was no registry in the U.S. for either breed at the time and the Americans just wanted tough tireless dogs to control livestock with.
As time progressed and more dogs were needed, the Americans were breeding the two breeds together. After all no one had ever said "Don't cross breed them -- they are two different breeds". This practice produced pups born with tails, without tails, and some with badly kinked and crooked tails. Some breeders started docking tails, most likely in an effort to give the litter a more uniform appearance. Even today you will see cattle dogs with docked tails. the practice persisted for decades, and almost no one remembered exactly how or where it had begun. If you had a "heeler" that had a docked tail, just remember that having the docked tail doesn't make the dog a Stumpy Tail Cattle Dog, just your best buddy on 4 legs who happens to not have a tail.

Modern technology has determined that the gene that produces the NBT (Natural Bob Tail) has been identified as a simple dominant factor. More information on the NBT can be found here.        

Another article on the NBT, written by an Aust Shepherd breeder, is here.  
--Article by Grace (Vance) McManus, SilverPark Kennels.